Summer Employment Opportunities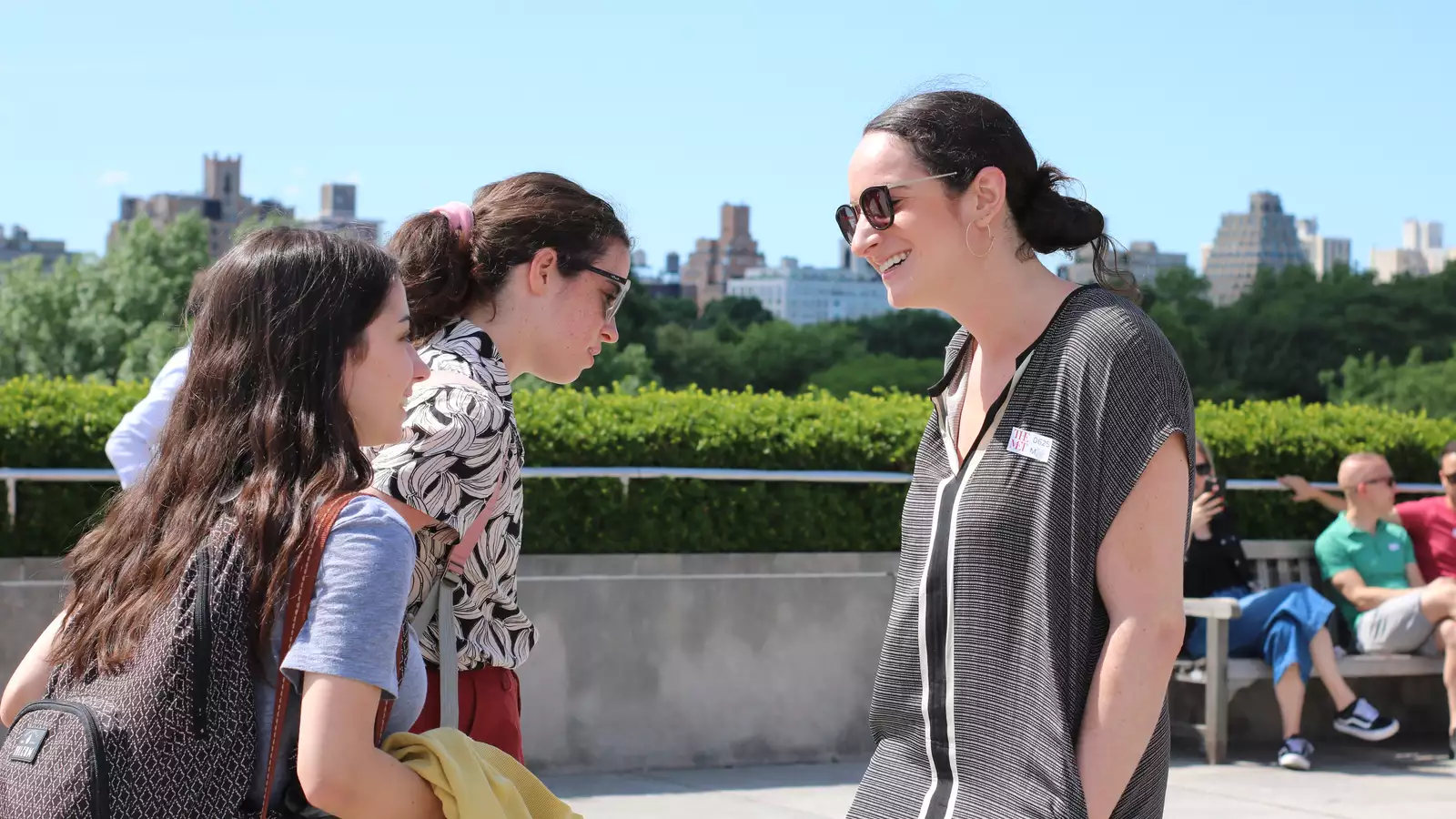 Join us for a Barnard Summer
Hiring Now
Spring Job Openings 
We currently have no positions available for the Spring 
Summer Job Openings
Course Assistant

Program Assistant
Information Sessions
Summer Job Webinars
No upcoming Informational Sessions 
Hiring Timeline
Summer Jobs 
Summer job application closes: 1st week in March, 2021
One on One interviews: 2nd and 3rd week in March, 2021
Group Interview Process: 3rd week in March 2021 
Hiring decisions: 1st week in April, 2021
Position start date: June, 2021
Course Assistant (CA)
Our Course Assistants Support the Program Faculty assigned to a course within our Summer Institutes. The Course Assistants will oversee and manage the day to day operations of the virtual classroom, serve as in-class peer support for students and help create a community where students can succeed academically in their virtual classroom.
Qualifications
Current Barnard College student in good academic standing

Current Sophomore or Upperclassman

Current or prior experience as a mentor, teaching assist or advisor

Leadership experience working within a student facing department such as Student Life, Residential Life, Beyond Barnard or Admissions
Terms of Employment
Type: Virtual employment (Not on campus)
Work Hours: Part Time position of 20 hours per week
Duration: June 21, 2021 to August 9, 2021
Salary: Stipend of $________
Staff is required to be present for training, orientation, staff meetings and close-out meeting
Program Faculty Support
Serve as class attendance monitor by keeping a daily attendance log of students assigned to your course

Assist Program Faculty by gathering class materials and dispersing to students electronically (when necessary)

Familiarize yourself and read all classroom materials and information from your Program Faculty

Set-up and test online systems ahead of class or lecture

Be available and present for your assigned course, log-in at least 5 minutes prior and be flexible to class time changes

Work closely with Program Faculty to outline and communicate classroom expectations and policies to students

Collaborate with Program Faculty to evaluate student academic needs and create lesson plans and goals

Document student progress and engagement levels to discuss with Program Faculty

When necessary serve as workshop moderator and introduce Program Faculty and Speakers
Student Support
Support students emotionally and academically to ensure student growth, development and acclimation in the Pre-College Program

Offer constructive feedback and commentary to spark intellect and curiosity of student group

Assist in creating an open learning environment that will facilitate the desire for students to learn, share and gain self-motivation for self-improvement

Host and keep a schedule of weekly

"Review Hours"

to connect with students

Be diligent in paying close attention to student engagement levels during class and provide helpful recommendations on ways to increase involvement

Serve as a peer advisor and assist students experiencing difficulties with their academic environment in coordination with the Program Faculty

Be a role model who is organized, balanced, student-centered, reliable and accessible

Be patient, caring, understanding, flexible and adaptive to students needs and concerns

Project a positive image and maintain high professional standards with integrity as a representative of Barnard College, Pre-College Programs

Solve problems through good judgment aligned with pedagogical best practices and Pre-College Programs guidelines

Be knowledgeable and aware of on-campus resources and serve as an advocate and referral to students

Ensure students feel heard, appreciated and willing to engage during class and workshops
Collaboration
Work closely with supervisor on projects related to student academic needs

Work closely with fellow Program Assistants and Course Assistants to co-host programs, workshops and discussions for students

Work closely with fellow Program Assistants regarding any student of concern and their social needs
Communication
Check-in with supervisor and the Pre-College office staff frequently and notify supervisor of any questions or concerns

Consult regularly with your Program Faculty regarding any student of concern academic, social or emotional welfare

Notify Program Faculty and supervisor of concerning or disruptive student behavior and/or attendance concerns as soon as possible

Initiate follow-up discussions with students about class instruction, understanding and learning outcome

Assist in developing students' communicative, study and time management skills

Help students build confidence, develop problem-solving skills and critical thinking abilities
Technology
Utilize online learning platform (Canvas) to communicate with students

Complete required training by Barnards Information Technology department and selected technology vendor

Notify and keep an accurate log of concerns or issues that students or faculty are experiencing related to the online classroom and follow-up with the Technology Assistant until the issue is rectified

Interpret an extensive variety of technical instructions in coordination with Information Technology to students and faculty and ensure users understanding

Analyze and resolve technical problems related to the online classroom (If possible);

Information Technology will serve as additional support

In collaboration with Information Technology, teach new skills that may be helpful with on-line instruction
Administrative
Complete classroom/workshop attendance/assessment forms within 24 hours

Assist Senior Program Assistant and supervisor with answering general questions via email that is sent to the Pre-College Programs mailbox

Monitor surveys or sign-up responses from students interested in workshops or lectures

Adhere to deadlines set by supervisor and professional staff of Pre-College program
Program Assistant (PA)
Our Program Assistants work closely with their students by designing and hosting programs to create a virtual programming environment. Our daily programs and activities are designed with intention, keeping the students holistic development at the forefront.  Each program should connect our students forming a community so students can succeed socially and emotionally.
Qualifications
Current Barnard College student in good academic standing

Current Sophomore or Upperclassman

Current or former Resident Assistant or relevant experience planning and hosting programs for high school or college students

Leadership experience working within a student facing department such as Student Life, Residential Life, Beyond Barnard or Admissions
Terms of Employment
Type: Virtual employment (Not on campus)
Work Hours: Part Time position of 20 hours per week
Duration: June 21, 2021 to August 9, 2021
Salary: Stipend of $________
Staff is required to be present for training, orientation, staff meetings and close-out meeting
Student Support
Support students socially, academically, and emotionally to ensure student growth, development, and acclimation in the virtual Pre-College Program

Assist in creating a fun and engaging learning environment that will facilitate students desire to form friendships with their peers and gain self-motivation for self-improvement

Offer constructive feedback and commentary during programs to spark intellect and curiosity from students

Host and keep a schedule of weekly

"Open Door Meetings"

to connect with students

Monitor student engagement levels during programs and provide commentary and helpful recommendations on ways to increase involvement

Serve as a role model who is organized, balanced, welcoming, student-centered, reliable and accessible

Be patient, caring, understanding, flexible and adaptive to students needs and concerns

Ensure students feel heard, appreciated and willing to engage during programs/activities

Project a positive image and maintain high professional standards with integrity as a representative of Barnard College, Pre-College Programs

Be knowledgeable and aware of campus resources to serve as an advocate and referral to students
Programming
Create and design virtual programming that:

Encourages a welcoming, open and appreciative community

Highlights useful and informational topics

Encourages students' acclimation to Pre-College Programs

Enhances students emotional support and growth

Builds on our social, psychological, academic learning objectives

Promote events by designing and posting flyers and/or videos on approved social media platforms. Content should align with the college's mission and Pre-College Programs values

Host wrap up conversations after each event to address questions or concerns from students

Host at least five programs weekly
Collaboration
Serve on small group committees that may plan and implement programs, special events or affinity clubs

Work closely with your supervisor on projects related to student programming and involvement

Work closely with fellow Program Assistants and Course Assistants to host programs, workshops or discussions for students

Work closely with fellow Course Assistants regarding any student of concern academic or social needs

Work closely with your supervisor and the Associate Director of Pre-College to coordinate special events such as Orientation, Welcome Day and Closing Ceremony
Technology
Utilize approved programming social media platform to communicate with students

Stay up-to-date with current technologies, design tools, and social media platforms to effectively connect and engage virtually with students

Utilize approved social media platforms to host virtual programs

Complete required training by Barnards Information Technology department and selected technology vendor
Communication
Discuss expectations and program guidelines with your students prior to each program

Update supervisor during meetings on programming feedback and student involvement

Check-in with the supervisor and the Pre-College professional staff frequently and notify supervisor of any questions, concerns in an expeditious manner

Notify supervisor of concerning or disruptive student behavior and/or attendance concerns as soon as possible
Administrative
Complete program post-assessment forms within 24 hours

Assist Senior Program Assistant and supervisor with answering general questions via email that is sent to the Pre-College Programs mailbox

Monitor survey/sign-up responses from students interested in upcoming programs

Complete program planning forms by deadline as directed by supervisor and Associate Director of Pre-College Programs

Adhere to deadlines set by supervisor and professional staff of Pre-College programs
Other duties as assigned