Monday, March 15- Thursday, May 6, 2021
Liberal Arts Intensive Online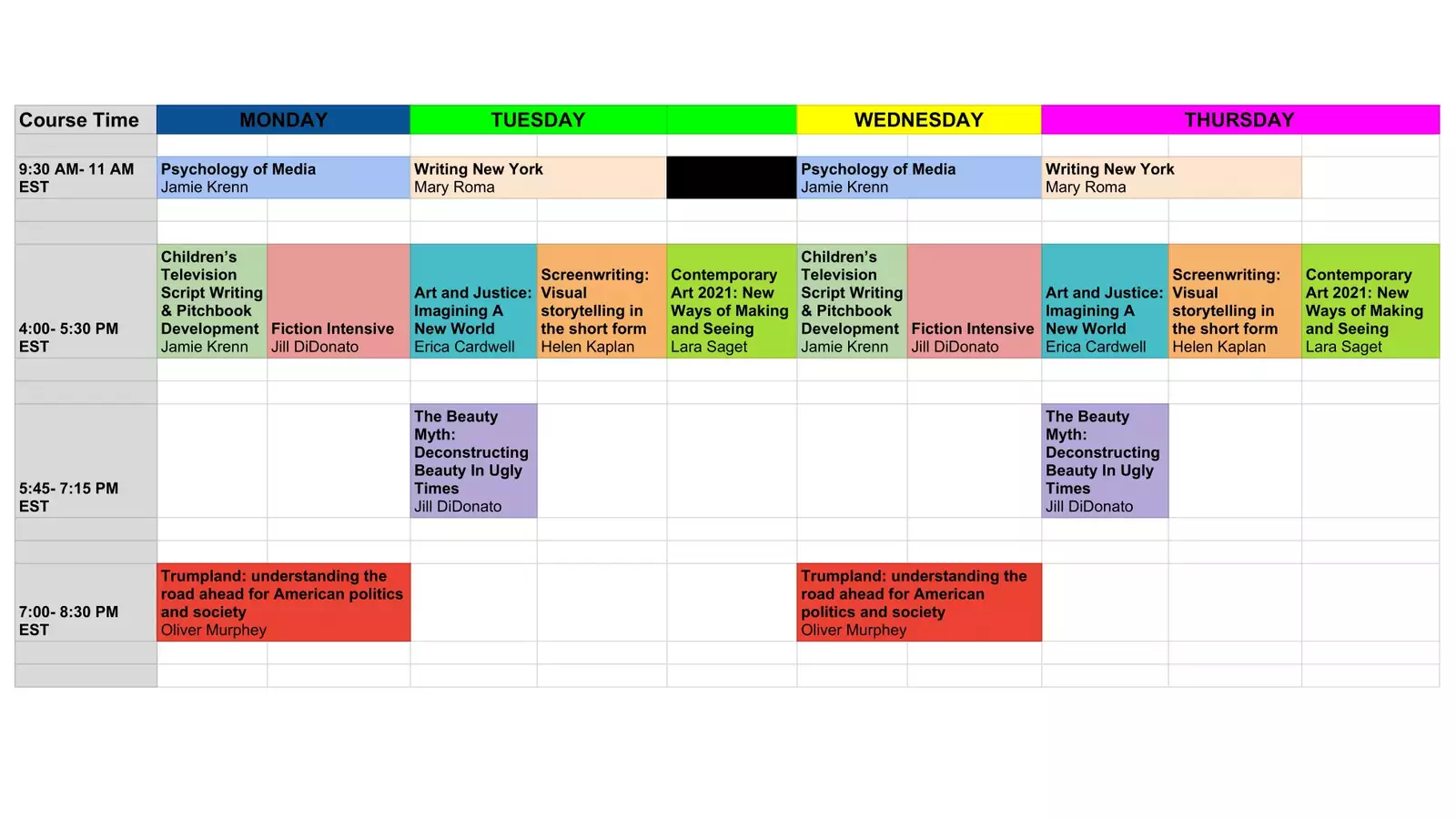 Bringing the Best of Barnard to You!
The Program
Spend 7 weeks this spring deep diving into one of Barnard Pre-College's most popular courses in our virtual intensive. Under our expert PCP Instructors and Course Assistants, Liberal Arts Intensive students will take courses on topics ranging from psychology, to art, to writing, to political science. 
In addition to their coursework, LAI students will attend information sessions on college admissions and weekly PCP community nights led by our student staff. 
Program Structure: This program is completely virtual. Classes are held synchronously via Zoom at the times below. 
Program Tuition: $1,500
The Curiculum
Students select one course from the below list to apply to and enroll in. All course times are EST. 
We have provided a mix of days of the week and times to try to accomodate for as many students as possible. 
Students are welcome to enroll in two courses but are responsible for selecting courses held on dates/times that do not conflict. Students enrolling in two courses will receive an 15% discount on their second tuition. 
2021 Course Offerings (Monday/Wednesday Classes)
Instructor: Jamie Krenn
Monday/Wednesday
4:00-5:30 pm (EST)
Children's Television Script Writing & Pitchbook Development will cover topics within show development for preschoolers and early childhood viewers. It will include current research within education, cognitive development, and media literacy and its impact on viewers which is vital to sound show development. The course will cover many skills necessary for writing and formal presentation that can impact the final development of a television program. It will also provide practical skills useful for production companies in developing a sound media artifact from an educational and cognitive perspective. During the course, students will formulate a final script of their own choice and a "pitchbook" which will outline show themes, characters, visuals, and learning goals. Guest speakers will include professionals in the field of children's television production.
Learning Objectives: Upon successful completion of Children's Television Script Writing & Pitchbook Development, students will: 1) characterize the developmental stages from infancy through early childhood;2) be knowledgeable of television programs children view during different developmental stages; 3) become familiar scriptwriting for a 22-minute television program; 4) perform a psychological research exercise collecting data from a child viewer to tweak or edit their script and pitch book; 5) identify crucial cognitive psychology elements that determine the positive and negative qualities of television used by this age group; 6) leave with a final document that can be presented to any network of their choosing.
Instructor: Jill DiDonato
Monday/Wednesday
4:00-5:30 pm (EST)
This class is intended for those who have already written fiction in their high school classes or in their spare time, and who are interested in focusing on the practice of writing and revision through an intensive writing workshop. The core of this course is a writing workshop in which students will read and discuss stories their peers have written for this class. Students will receive detailed feedback on their stories/novel excerpts from their peers, as well as from the instructor. We will focus on scene work, narrative point of view, dialogue, and character development, while learning the dos and don'ts of fiction writing. We will pay special attention to avoiding stereotypes and tropes and learn skills necessary for writing with sensitivity to inclusion and diversity. By the end of the course, each student will have written, workshopped, and revised at least one piece of short fiction or an excerpt from a novel. In addition, each student will have the chance to share her work in a public space and will have learned college-level writing workshop skills.
Instructor: Oliver Murphey
Monday/ Wednesday
7:00- 8:30 pm (EST)
The course will seek to understand the results of the November 2020 election and subsequent fallout to examine the position of American democracy, the strength of American institutions and the strength of the American constitution. In what ways has the constitution held up or failed to serve its original purpose or contemporary needs? What are the political challenges now facing the country and what are the prospects for their resolution? How might historical analysis help us understand our present moment?
2021 Course Offerings (Tuesday/Thursday Classes)
Instructor: Erica Cardwell
Tuesday/Thursday
4:00-5:30 pm (EST)
This 7-week seminar is dedicated to the intersection of art and justice in our contemporary culture. we will touch on the following key social justice issues expressed and interrogated through visual and literary arts: racial justice, gender equity and intersectional feminism, climate change, land sovereignty and the prison industrial complex. Some of those artists and writers whose work we will explore are: Emory Douglas, Cecilia Vicuna, Rebecca Belmore, Judy Chicago, Dr. Nicole Fleetwood, Hank Willis Thomas and many more. Students will be assigned readings, audio and video clips, and small projects throughout the seven weeks, culminating in a short research paper on a topic from our class. This class is for students who are interested in the root stories of political artistic practice, radical imaginations born in movement work, and the ways in which art and justice are indelibly intertwined.
Instructor: Helen Kaplan
Tuesday/Thursday
4:00-5:30 pm (EST)
From film festivals to cell phones, short films are everywhere. This workshop will demystify the art of screenwriting and give you the tools you need to write a strong short screenplay. You will learn how to grab viewers by their collective shirt collar and more importantly, hold their attention until the final credits roll. Emphasis will be placed on visual storytelling, the classic three-act structure, plot, character development, conflict, and dialogue. Through writing exercises, script analyses, and film screenings, students will learn the craft of screenwriting. By the end of the course, each student will have written two short screenplays as well as revised one of these scripts.
Instructor: Jill DiDonato
Tuesday/Thursday
5:45 - 7:15 pm (EST)
This course is designed as a sister course to Is Fashion Frivolous? turning sociological inquiry to the role of the beauty industry in current times. When Naomi Wolf wrote The Beauty Myth over 20 years ago, she posed the question: is beauty hampering feminism? Today, the role of beauty in culture is not only analyzed in relation to gender, but speaks to everything from racial inequality to climate change. With the rise of social media influencers and decline of Madison Avenue dictating representation of beauty stereotypes, have beauty standards really become more fluid and self-determined? Using sociological theorists to examine fashion magazines, blogs, and Instagram posts through a critical lens, we will come to our own conclusions. With guest lectures from beauty company founders, CEOs, editors, and casting agents, students will gain insight into what makes the beauty industry tick and how this affects personal identity. We will also look at global beauty rituals and analyze what they say about a culture in order to see beauty as a lens for the self. By the end of the course, students will have the tools to understand beauty as a construction with social, racial, and economic implications.
IMATS/ Canvas/Zoom
Barnard PCP utilizes Canvas, an online classroom, where students will find their syllabus, Zoom links to their class sessions, assignments, discussion boards, and access to message their instructor or peers. 
All classes and workshops are hosted via Zoom. Our instructors have worked to create robust lessons that utilize various technology capabilities and platforms such as Zoom breakout rooms, Twine, Canva, and even apps developed by our professors! 
Our team will go over technology usage and etiquette extensively in the student manual and during Orientation.
Course Assistant
Each course has the added support of a Course Assistant (CAs), a current Barnard student. CAs assist faculty with administrative tasks, classroom management, and provide an additional point person for students to go to with academic questions or concerns
Student Life Online
We believe student life does not start and end in the virtual classroom. Students in our Liberal Arts Intensive will be able to participate in college admissions workshops as well as biweekly community building activities such as self care nights, social justice discussions, and virtual scavenger hunts. 
We also encourage students to register for Pre-College's Book Club discussions which are held at the end of each month and led by current Barnard students.